Statistical Analysis and Review Services​
Let our expert statisticians save you dozens of hours and provide insights to help strengthen your research. Since 1994, we have helped researchers with over 3,500 stats projects. We guarantee you will be happy and provide a full money back guarantee.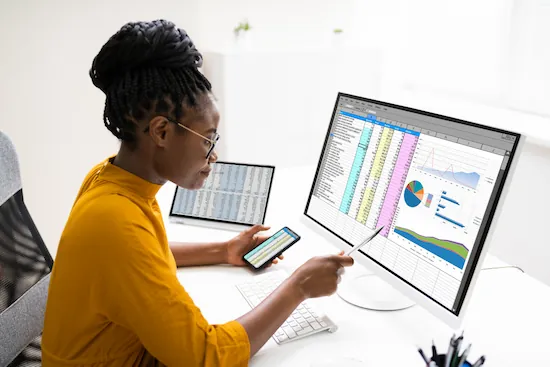 Choose from the following statistical analysis packages based on your needs.
Level I Statistical Analysis
Lead Time: 4 business days
Organizing and preparing your data for analysis

Conducting a Normality test to identify trends and outliers

Descriptive statistics and summary, and frequency tables

Optimizing visual presentation with appropriate graphs

Performing basic analysis using Chi-Square tests and T-tests

Performing Multiple Regression with up to 5 models with up to 10 variables in each model.

Summary highlights of the results

Appropriate graphs and charts
Level II Statistical Analysis
Lead Time: 5 business days
Check your methods and how well they answer your research problem

Repeat the analysis to corroborate the results and confirm reproducibility

Get useful feedback on statistical methods, analysis, and results, with advice for corrective action

Multiple Regression, ANOVA, ANACOVA for up to 10 models with up to 20 variables

Logistic Regression, discrete analysis for up to 10 models with up to 20 variables

Structural Equation Modeling with up to 30 questions and 300 respondents

Factor Analysis with up to 30 questions and 300 respondents

Create up to 5 Predictive models

Intermediate Econometric models

Intermediate Financial models (e.g., GARCH, MA, ARIMA)

Summary highlights of the results

Appropriate graphs and charts
Level III Statstical Analysis
Lead Time: 5 business days
Draw crucial inferences from the results

Present relevant results in tables/graphs

Detect potential limitations and weaknesses

Multiple Regression, ANOVA, ANACOVA for up to 15 models with up to 150 variables

Logistic Regression, discrete analysis for up to 10 models with up to 20 variables

Structural Equation Modeling with up to 50 questions and 500 respondents

Factor Analysis with up to 50 questions and 500 respondents

Create up to 30 advanced Predictive models

Advanced Econometric models

Advanced Financial models (e.g.,risk modeling, financial model programming, Markov Switching)

Summary highlights of the results

Appropriate graphs and charts