The US is one of the popular postgraduate study destinations for both local as well as international students, and this is due to its academic excellence and world-class research facilities. Keeping in mind the perks and benefits that they get after completing a Ph.D., many graduates prefer to go for a Ph.D. program. By undertaking a Ph.D., which will make you an expert in your field, you will find excellent career opportunities in national as well as international organizations. Besides, the US is a global community with people from all around the world, and studying in the country will not only improve your cultural understanding but will also help you expand your network.
The US is also one of the leading countries in the world when it comes to innovation and research. Because of this, a Ph.D. degree from the US is immensely valued. However, graduate studies in the US are different in structure from those in the UK or Europe. Alongside independent research in your Ph.D., you have to cover a detailed background of the core subjects and your major, usually in a five-year program that comprises both masters and Ph.D., unlike in the universities based in the EU and the UK.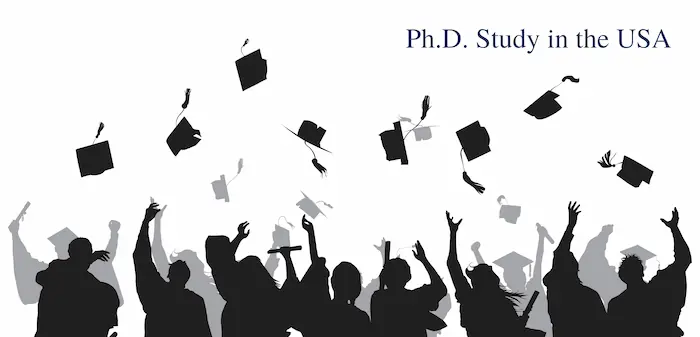 Ph.D. opportunities in the USA.
According to a report by the OECD in 2019, the US has the most doctoral graduates in the world, followed by Germany and the United Kingdom. It alone produced more than 67,449 Ph.D. graduates in 2014. Besides, the fame of the US as a top study destination around the world is on an all-time peak. It shows no real signs of decline with approximately a million international students across the country in universities and colleges.
It is this high number of Ph.D. graduates who contribute to the research and innovation in the US every year. The eminent approach of the US to graduate study and research shows a standard of professionalism that, at times, exceeds the minimum requirement for a research-focused doctorate in the rest of the countries.
Below are the reasons why you should consider the US as your Ph.D. destination.
A US Ph.D. usually takes more time to complete than a UK Ph.D., but this also helps form a firm understanding of your research area and find your feet as a Ph.D. scholar.
With world-class educational institutions and research centers, the US is the first priority for students to pursue their graduate studies after graduation. Besides, the US has been leading the research of the global league table for long. It shows the massive investment in research and development made by the US over the years.
Since the US is the top destination for international students to apply for a Ph.D., the universities host students and scholars from around the world, thereby nurturing a global community that, apart from academic excellence, offers many things to learn.
When it comes to trends, the US is one of the leading graduate trendsetters. The US was the second country to adopt and implement the modern Ph.D. degree and has a different structural approach to the research and training, which is now influencing doctorate studies in the UK and Europe.
With six time zones, 50 states, and thousands of higher education institutions, you have high chances of success in the US because the opportunities are immense.
Besides all these facilities, a big job market with highly paid salaries and numerous jobs is another reason for international students to apply for a Ph.D. in US universities. The image below depicts some key details about a Ph.D. study in the US.

American universities
There are more than 4500 universities in the US, and out of these, 1500 universities offer doctoral and postdoc programs. Compared to the UK and European countries, this is a high number.
Depending on how they receive funding, universities in the US could be categorized into two types, public and private universities.
Public universities are directly administered by the state and are also called as state universities. One benefit of doing a Ph.D. at a public university is their low tuition. This is because they receive funding from the state; they charge less to local students. However, if you are out of state or country, you may pay as much as double the fee locals pay.
Private universities, however, do not receive any direct state funding and may only benefit from the federal research funds. As a result, a student at private universities pays more tuition as compared to those in public universities. However, there is no in-state or out of state rule for deciding tuition fee for national or international student.
There is no notable difference between the doctoral programs offered by these universities. Though public universities have large campuses, private universities focus equally on the quality of their research and, at times, are run as non-profit institutions with fully funded models. This is the reason many of the high ranked universities in the US are private.
US university rankings
Backed by high-quality research facilities and high investment in research and development, US Universities have been performing exceptionally well in global university rankings. As of 2020 ranking, a considerable number of universities in the top 100 are based in the US such as:
Finding a US university for your PhD
At times, students find it tiresome to find a university to apply for their Ph.D. There are so many factors that should be taken into consideration besides ranking and tuition fees. At times departmental ranking is preferred over university ranking, so you need proper research over it. The following tips could help you find the best spot:
While going through a list of universities, you need to focus on not just your courses or research projects but also on training, funding opportunities, and the ranking of your graduate program.
You should not worry much about the public-private university tag. Private universities on the average tend to do better than public universities. But there is never a compromise on quality.
It is not just the core curriculum or research project that defines the prestige of a university. You need to keep in mind the extracurricular factors too. In a country as big as the US, you would need to make connections with as many people as possible, and that usually takes place by participating in extracurricular activities and seminars.
Make sure you confirm the academic accreditation of your university before applying. Though most of the universities are genuine and reputable, you do not want to go for the one not recognized by higher education body.
Graduate programs
The graduate programs offered at universities in the US are entirely different from postgraduate studies in the UK and the rest of the world.
First of all, you will have to enroll in a graduate program at a University in the US. The program determines the required courses you would have to learn to strengthen your foundation for your Ph.D. For different subjects, most universities have graduate schools. However, small and more specialized institutes may focus on the specialization of one or two programs. More specific degree concentration may also be offered by diverse graduate programs, in particular subjects.
Fees and funding
Doing a Ph.D. in a US-based university might seem a luxury at first due to their high tuition fees, but that is not always the case. Many universities in the US offer generous financial assistance to coming researchers. The funding may take the form of a graduate assistantship or research assistantship, in which case you have to work for few hours a week with your professor.
Ph.D. fees
Since a vast number of universities with different ranking and specialization offer Ph.D. programs, their Ph.D. fees vary a lot. People might think of the Ivy League universities costly and purely made for the rich folks, it is not the case at all. The Ivy League Universities offer fully-funded awards to extraordinary students from different parts of the world.
However, there is a big difference between the cost of a Ph.D. offered by private and public universities. Public Universities also called state universities charge an average of $13000 a year for in-state scholars pursuing a Ph.D. program. The fee is, however, higher for scholars coming from other states and countries.
Doing a Ph.D. at a private university may cost you around $43,000 a year, and this is the same for all the graduate students, whether inside the country or international. However, you may have more funding options available at private universities as compared to public universities. The data is taken from the National Center for Education Statistics US. It is a good idea to go through the website of your university to know about the cost of your Ph.D. degree.
Living costs
It is difficult to ascertain the cost of living across all the 50 states of the US. It is, however, clear that some states of the US are more expensive as compared to others. Living in other parts of the country could be more affordable. The best bet is to talk to your university's admission office for international students, and they might be able to guide you depending on the state they are located in.
Funding
You can always get funding if you are offered admission into a PhD program at a university in the US. The US department of education and other organizations offer a plethora of funding opportunities to students from around the world to cover their fees. The tag price of doing a Ph.D. in the US might be high, but that is definitely not what you are going to pay.
Some schemes may be fully-funded, which covers tuition fees, living expenses, and a monthly stipend. Other awards may include half or full tuition fee only. Almost all the universities in the US have information about funding opportunities on their website.
Assistantships
In addition to awarding funding, almost all the universities in the US have assistantship opportunities available to students and researchers. The assistantship may be teaching assistantship in which you have to help the professor with his teaching schedule. In the case of a research assistantship, you might be asked to help your coordinator with research in exchange for money enough to cover your tuition or maybe a monthly stipend.
Let me expound on some common types of assistantship.
Graduate teaching assistantship: This assistantship includes teaching undergraduate students the subject related to your major. You might also be asked to teach the students or help them with some lab work. This kind of assistantships is also called teaching assistantship. On average, you will be required to work approximately 20 hours per week and get $2500 US per month as compensation.
Research Assistantship: This involves helping your professor with data collection and carrying out other research-related activities. In such cases, you might get an extra tip that further depends on the worth of the project you are doing with your professor.
Administrative Assistantship: This kind of assistantship include administrative and clerical activities in your department.
Fellowship: You might not be asked to do any additional work but to maintain a certain academic and research standard.
Applying for a Ph.D. in the USA
Since you have shortlisted your university and major you want to do your Ph.D. in, you have to apply to the respective department now. There are some essential things you should be mindful of while applying for a PhD.
Competitive Admissions. Keep in mind that the program you are applying to would be in the priority list of many other people around the world too. This makes the admission process very competitive. Every year, a Ph.D. program with a limited number of seats will receive a lot of applications.
The application process will be holistic. Your cumulative grade point average CGPA and graduate test score matter a lot. Applicants with the best profiles are selected.
Your research proposal, though important, does not carry much weight as it does when you are applying for a UK Ph.D. This is because you will get to know about many new concepts during your Ph.D. and that is when you will select your research topic to work on.
Different universities may have different evaluation criteria.
Application materials
Different universities may set different admission requirements for a Ph.D. degree, but you should expect the following and should be ready with them.
Academic transcripts – You will be asked to produce your academic transcripts while applying for a Ph.D. or doctorate degree at a US university. You need to attest your transcripts and degrees from the higher education body in your country before you start working in your application. This is important and adds weight and authenticity to your profile. The admission committee takes into account your CGPA, and you can score well among many other applicants if you have a high GPA.
Personal statement – This part of the application is the most important of all and carries the highest points in the case of Ph.D. applications to the US. You should elucidate in the personal statement, what you have not included in your application or CV. In other words, the personal statement is your opportunity to tell your story that is usually not part of your CV.
Letters of recommendation – You should have at least two letters of recommendation from your research supervisors in your final semester of college or your employer. Ask your referees to send the recommendation letters to the university from their official email addresses and not from a personal email address.
Test scores – This is also important to have your graduate test scores ready by the time the applications for Ph.D. in your appointed university opens. Some universities give test wavier if you have good quantitative ability proved by your transcripts. Others may still ask you to provide GRE or GMAT. If you are applying for economics or mathematics, you should have a high percentile in the quantitative section.
Language Test Score – You also need to provide a language test score report before the admission application evaluation starts. TOEFL or IELTS are English tests accepted by almost all the universities. These tests contain four modules that are: Listening, Writing, Speaking, and Reading, enough to evaluate your language ability.
Research statement – You are not always asked to provide a research statement while applying for Ph.D. at the US University. You would only need to mention about your research interest and the areas you have prior research experience in.
CV – Make sure you provide the best CV in the format required by your university. In the case of European universities, you are asked to provide your CV in Europass format. This is, however, not the case with the US.
All these elements are taken into account during application evaluation.
Application deadlines
Application deadlines may vary from university to university. Application for fall or autumn for the next year Ph.D. programs normally opens around August and closes in December in the current year.
Application fees
You will also need to pay an application fee to put an admission application. This reflects the cost of your application processing and reviewing. Usually, the application fee ranges from $50 to $110. At times your university may give you an application fee waiver, so make sure you check with them if you have issues paying the application fee.
Interviews
The last part of your application will be an admission interview. If your program is highly competitive and a prestigious one, you might be asked for an interview session. It might be optional for other programs.
Decisions
Your admission application may have three outcomes. Either you make it and get an admission offer, or you may get a rejection email, stating your application has been unsuccessful. At times, you may be put on the waiting list. This means if one of the accepted applicants withdraws his application, an admission offer will be sent to the first applicant in the waiting list.
This is for international applicants and not for applicants already living in the US. You need a visa to travel to the US and start your Ph.D. However, if you are from Canada or Bermuda, you do not need a visa to travel to the US. All other students need to have a visa normally F-student visa or J-1 visa, to travel to the US.
Application process
You would have to go through several stages to get your J-1 of F-1 visa. These stages should usually be completed in the following order.
Have an offer to start a Ph.D. degree: Once you have an offer to start your Ph.D. degree at a SEVP approved university, you are eligible to start a visa application.
Pay the SEVIS I-901 fee – The first thing you need to do now is to pay a $200 and register with SEVIS. Upon paying the fee, you will be issued a receipt of payment. As a result, your university will issue you with Form I-20. This is a confirmation of your registration with the US University as a genuine student.
Begin your visa application online – Start your visa application, fill in all the required information and submit it. You also need a photo of this DS-160 form.
Schedule a visa interview – Attend your visa interview scheduled at the US Consulate or Embassy in your country. The Visa Officer (VO) will ask you some questions to understand if your intentions about traveling to the US. Bring your original documents and passports plus your Form I-20, SEVIS receipt, and Form DS-160. Make sure you bring your visa application fee receipt along.
Receive your visa – If your interview is successful, you will finally get your lucky call. At times you will be asked to pay the visa issuance fee if there is any. In case you need further information about the visa process, visit the US embassy website in your country.
You will be in the US to start your Ph.D. by late August or early September.